Ajuba's LEAP- Leading Edge Accelerated Partnerships will offer a global platform to connect participants with some of the most powerful and with the most leading industry partners globally. An effort to bring together the world's leading tech companies, global startups and innovators together to partner.
Ajuba Innovation LEAP delegation once a year will give an opportunity for you interact first hand with the early-stage entrepreneurs and also mature companies developing new products or manufacturing processes around the world. We will pick one destination yearly which offer an opportunity to meet the academic groups seeking to transfer their ideas to the market, policy makers to understand other institutions, global corporations who are interested in collaborating.
Hear what our past delegations had to say about trips:
2019 Delegation to Vibrant Goa
Eran Yarkoni on his experience with Ajuba
Hear Eran Yarkoni, a serial entrepreneur and Venture Capital investor from Israel. He is a seasoned executive with 30 years' experience as a founder, CEO, board member, advisor and investor. He was the co-founder and former CEO of CyOptics, among the world's leading manufacturers of active optical components, with over $200M in annual sales, which was acquired by Avago Technologies -now Broadcom. He was also the co-founder and CEO of EnStorage, a developer of breakthrough energy storage systems for renewable and conventional energy applications. CEO of Capital Nature, a renewable energy incubator, and Partner in Israel Seed Partners, a $250M early stage Israeli Venture Capital fund. An angel investor in a number of early stage Israeli startups. Held a number of senior management positions at Intel Corporation's Pentium Processor and Networking divisions, among them the management of the Pentium® MMX Processor product, taking it from development and manufacturing to $10B in sales.
Kris Mani on his experience with Ajuba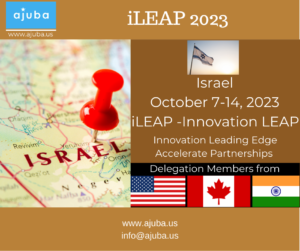 Date: October 7-14, 2023 Innovation is one of Israel's most valuable natural resources. Israel is fueled by a vibrant entrepreneurial …

.