Volume 2 | May 29th, 2023
Introduction:
As artificial intelligence (AI) continues its rapid rise, the semiconductor industry is at the forefront of developing AI-ready hardware. I remember when I worked with ADE Corporation in Boston and the led the product development of industry's first Automated Defect Classification System based on neural networks and fuzzy logic for manufacturing plants in early 90's. A partnership with Israeli company, Microspec, with deep understanding in image processing and artificial intelligence. This technological revolution led to the integration of AI into manufacturing workflows, optimization of operations, and improvement of product quality. Startups have emerged with hardware-based acceleration technologies and advanced processors designed specifically for running neural networks. Additionally, AI and predictive analytics are streamlining chip design processes, saving time and costs. In this blog, we will explore some exciting companies that are pushing the boundaries of AI integration in the semiconductor industry.
Applied Materials
Applied Materials AI(x) Platform Harnesses the Power of Big Data and AI to Accelerate Semiconductor Technology Breakthroughs from Lab to Fab. AIx, which stands for Actionable Insight Accelerator, enables engineers to see into semiconductor processes in real-time, take millions of measurements across wafers and individual chips, and optimize thousands of process variables to improve semiconductor performance, power, area-cost and time to market (PPACt). The AIx platform works across all Applied Materials process equipment, eBeam metrology systems and inspection systems and is extendable from lab to fab.
Rebellions:
Bridging the Gap between Silicon Architectures and Deep Learning Algorithms Rebellions, a South Korean startup, is making waves with its domain-specific AI processors. By bridging silicon architectures and deep learning algorithms, Rebellions builds AI accelerators that are tailor-made for complex deep learning tasks. The startup leverages silicon kernels to modify processor architectures, making them more suitable for intensive machine learning computations. This specialized AI hardware not only improves performance but also reduces deployment costs. With Rebellions' processors, companies can accelerate their machine learning workflows and unlock new possibilities in various industries.
Gauss Labs:
AI-assisted Semiconductor Manufacturing for Precision and Optimization Gauss Labs, a US-based startup, is revolutionizing semiconductor manufacturing through AI-based solutions. Given the industry's need for high accuracy in chemical, mechanical, and optics processing, Gauss Labs steps in to optimize these processes reliably. The startup offers solutions like virtual metrology, root cause analysis, and image metrology. By utilizing machine sensor measurements and metrology data, Gauss Labs predicts factory anomalies and provides engineers with valuable guidelines. This AI-assisted precision manufacturing approach minimizes disruptions and ensures optimal performance throughout the semiconductor manufacturing process.
SiMa.ai:
Another company SiMa.ai, a 4 year old start up in San Jose with offices in Bangalore, India. They have developed a groundbreaking solution to simplify the process of integrating ML into your products. They claim to have the first software-centric purpose-built MLSoC™ platform, designed specifically for the embedded edge. At SiMa.ai, they are making ML accessible and efficient for all industries and applications. By providing a purpose-built platform they make it easier than ever to harness the power of ML in your products.
AI-Driven Chip Design:
Saving Time and Costs The combination of AI and predictive analytics has greatly influenced the design of new chips. Machine learning-driven solutions have proven effective in identifying design limitations and analyzing the root causes of failures. These advanced tools enable chip designers to streamline their workflows, reduce iterations, and save valuable time and costs. By leveraging AI in chip design, semiconductor companies can accelerate innovation, improve product quality, and meet the ever-increasing demands of the market.
Conclusion:
The rapid rise of AI solutions has propelled the semiconductor industry into a new era of innovation. Startups like Rebellions and Gauss Labs are pushing the boundaries of AI integration, offering domain-specific AI processors and AI-assisted semiconductor manufacturing solutions. These advancements not only optimize operations and improve product quality but also drive economic growth and technological advancements across industries. With AI-driven chip design, the semiconductor industry can save time, reduce costs, and unlock new possibilities. As AI continues to evolve, the partnership between AI and the semiconductor industry will continue to shape the future of technology.
SKILL INDIA:
At Ajuba we recognize the need for semiconductor education in India. Ajuba has started a fortnightly FREE Webinar Series to SKILL (Scientific Knowledge for International Learning & Leadership) India.
Join us on our next webinar is on June 4th at 8:00p.m IST which will be on "Unlocking the Potential of Semiconductor Technology: Insights, Automation, and Job Opportunities." This webinar is designed to provide you with valuable insights into the world of semiconductors, explore the role of automation in semiconductor manufacturing, highlight the significance of Manufacturing Execution Systems (MES), and shed light on the diverse job opportunities available in the field.
References:
Integration of automated defect classification into integrated circuit manufacturing; Authors Louis Breaux; James Kawski; Baljit Singh; IEEE, ISBN:0-7803-2053-0, November 1994
Automatic defect classification system for patterned semiconductor wafers, Proceeding of International Symposium on Semiconductor Manufacturing; Authors Louis Breaux; Baljit Singh; ISBN:0-7803-2928-7, September 1995
---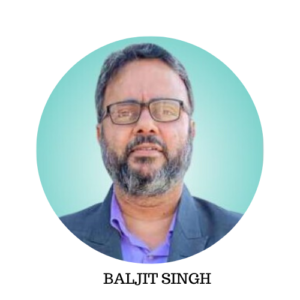 From the Desk of BALJIT SINGH, CEO Ajuba
Email: [email protected]
---